ENVE - SES 6.7 Wheelset
Save up to

0

%
Save %
Original price
$0.00
-
Original price
$0.00
Once a rim goes beyond the 70mm depth, aero efficiency rapidly tapers off and the additional weight quickly begins to neutralize the marginal aero gains that the deeper rim provides. These are the learnings from more than a decade pursuing the ultimate Real-World Fast aero wheelset. Letting our experience, CFD, and the wind tunnel guide us, we landed on the sweet spot of aerodynamics, weight, and stability to create a wheelset that goes head-to-head in the wind tunnel with the very best time trial and triathlon wheels on the market. Couple that with an impressively light sub-1500 gram weight, superior stability, along with a high-volume design, and you end up with a wheelset that defines Real World-Fast.
The SES 6.7 has been aerodynamically optimized around a labeled 27mm tire since data shows unequivocally that in real-world riding conditions, a higher volume tire provides more speed, confidence, and control. As such, we developed the SES 27 tire to be the high-volume race tire for the modern road cyclist. Featuring a 21mm internal rim width, the SES 6.7 can be paired with a 25mm tire, but for those wanting to decrease rolling resistance and maximize speed, a 27mm-28mm tire is the optimal labeled tire width.
Like the rest of the SES wheel line, the SES 6.7 has been optimized for road tubeless performance and features a hookless bead design that allows for the precise rim dimensions required to achieve the best tubeless performance. To further improve tubeless tire and rim reliability, this aerodynamic carbon fiber wheelset features ENVE's patent pending Wide Hookless Bead, a design element at the leading edge of the rim that provides a more forgiving surface, that when impacted, will reduce the likelihood of pinch-flatting a tubeless tire.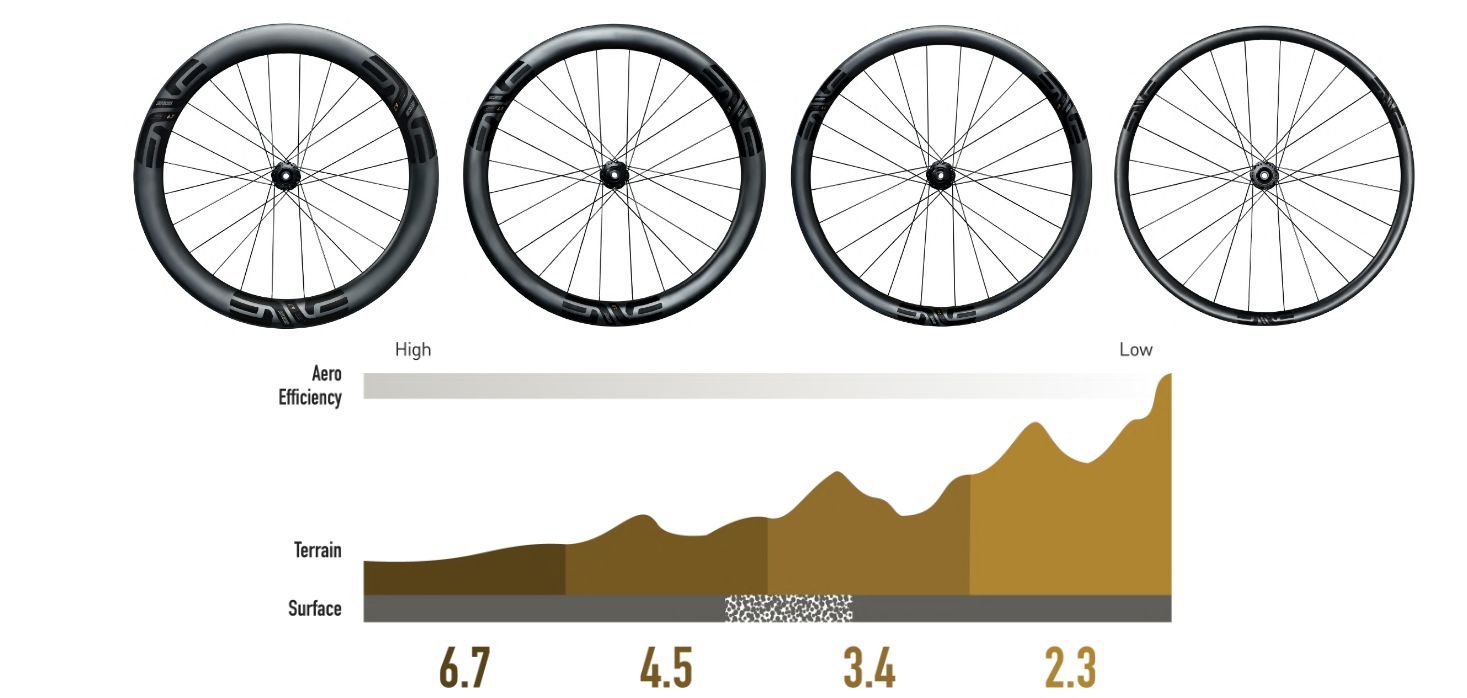 REAL-WORLD FAST
ENVE's aero wheel development program is driven by our Real-World Fast mantra. This means that each wheel is developed under consideration of airflow efficiency, crosswind stability, handling, weight, tire integration, and much more. The result is a refined collection of wheels that are purpose built to be best-in-class and provide the maximum speed and efficiency benefit available for their intended discipline application.
Over time, ENVE has redefined the bar by which all other aero wheels are judged: faster than nearly all our competitor's deep wheels, while also being lighter, and more confidence inspiring in gusting crosswinds. If you're a speedfreak looking for the perfect race wheelset, look no further.
THE SES DIFFERENCE
There's a simple reason why SES wheels consistently score "best in test" in nearly any third-party aero test. We're committed to sweating the small stuff and chasing the marginal gains that others will not.
In-frame development and ride testing have taught us that unique rim shapes and constructions between the front and back wheels optimize efficiency and the ride experience. Front wheels are designed to maximize crosswind stability. A rider's stability on the bike, especially in time trial and triathlon, is critical for aero efficiency and overall performance.Rear wheels are designed to recapture air flow as it passes from the front of the bike to the back, which maximizes drag reduction.

Aerodynamically optimized around modern high-volume tubeless tires.The all-new SES lineup was developed around the ENVE SES 27mm tire.

Tested at 20 mph (32 kph) and 30 mph (48 kph). Our SES promise of Real-World Fast isn't limited only to cycling's elite.

Weighted Average Drag: All wind angles are not created equally. Anemometer data shows that most of your ride time will be spent in wind at less than 12 degrees yaw. Weighted average drag is a tool that helps a rider understand the aero efficiency of a wheelset in real-world wind and riding condition
TUBELESS OPTIMIZED
Tubeless represents the pinnacle of road wheel and tire performance, and the hookless bead design plays a significant role. A hookless rim design allows for machined metal tooling to establish a precise and consistent bead seat diameter that meets the defined requirement by ETRTO. That precision fitment between the tubeless tire bead and the rim's bead seat ensures air and tire retention.
ENGINEERED FLAT PROTECTION - WIDE HOOKLESS BEAD
Most flat tires are caused by one of two things; Intrusion punctures (staples, thorns, glass, etc.) or pinch-flats (potholes, railroad tracks, rocks, etc.). While there is little we can do as a rim manufacturer to prevent punctures, the rim feature called Wide Hookless Bead greatly reduces the likelihood of pinch-flatting. Wide Hookless Bead technology works by providing a blunt surface upon which to bottom out the tire, dissipating energy across a larger surface area and preventing tire damage. This allows you to run the correct tire pressure without the worry of pinch-flatting.
ENVE PREMIUM ROAD HUB
What could be considered the nucleus of an SES wheel, the ENVE Premium Road Hub brings efficiency, longevity, and simplicity to every wheelset. From hub flange geometry to bearing longevity to Perfect Preload™, every design detail comes from more than a decade of pairing ENVE carbon rims with the leading hubs on the market. Key benefits of the ENVE Premium Road Hub are:
Hub Shell Geometry: The hub's flange diameters, spacing, and spoke hole lacing pattern assists in maximizing torsional stiffness, spoke tangency, and power transfer.
Lightweight: Cold-forged and machined 6061 alloy for durable lightweight performance. Weight: Front 126 grams, Rear 256 grams
Premium Grade Stainless Steel Bearings: The bearings selected are premium grade and custom-made for ENVE. Full stainless steel races promise that riders living near the coast, or riding in wet or humid environments, will not experience corroded bearings, races, or external surfaces.
Perfect Preload™: Our system ensures perfect bearing preload from the factory via a tuned wave washer installed on the axle. The result is a maintenance free design that promises longer bearing life, and improved rolling efficiency over the lifespan of the hub.
CERAMICSPEED BEARING UPGRADE OPTIONS
All ENVE hubs can be upgraded with Ceramicspeed Coated bearings for the ultimate in rolling speed and durability.
SPECIFICATIONS
DIAMETER: 700c
RIM DEPTH: 60/67mm
INNER RIM WIDTH: 23mm
HOLE COUNT: 24h/24h
HUB: ENVE Premium
SPOKES: Sapim CX-Ray
NIPPLES: Brass Internal
DRIVETRAIN: HG, XDR
AERO OPTIMISED TYRE WIDTH: 27mm
WEIGHT: 1497g 
"The SES 6.7 heralds a new era in wheel performance, putting all the relevant upgrades into one tidy hookless package for maximum comfort and unrivaled speed. These are hands down the fastest wheels I've had the pleasure of riding."

- Ben Hoffman, Professional Triathlete
 
---
WE'VE GOT YOUR BACK

ENVE Products are designed so that you can ride and race with confidence. As a member of the ENVE family, we've got your back. If something goes wrong, we are committed to do everything in our power to keep you rolling. Please click here for detailed information about ENVE's  Incidental Damage Policy and Factory Warranty