ENVE - SES 2.3 Wheelset
Save up to

0

%
Save %
Original price
$0.00
-
Original price
$0.00
There's no better option for the uncompromising climber who values performance up and down the mountain than the new SES 2.3. At sub-1200 grams, they're in a league of their own and deliver a real-world advantage in hilly terrain through their lightweight design and confidence-inspiring handling.
Modern-day alpinists take their ethos of 'Fast and Light' seriously by avoiding unnecessarily heavy gear to get up the mountains quickly while maintaining confidence on the way down. The SES 2.3 subscribes to that same idea in the pursuit of scaling mountains efficiently and providing even more fun and stability on the descent. Paring down from the SES 3.4, it maintains the proven Smart ENVE System design elements of dissimilar front and rear rim depths for handling the varying air flow elements from the front to the back of the bike.
At 28mm for the front depth and 32mm for the rear depth, the SES 2.3 provides crosswind stability and flatland aerodynamic efficiency to descend confidently and carry speed in the flat valleys between climbs. Utilizing hookless bead tubeless technology allowed our engineers to pull more weight out of this wheelset, tune the comfort, maintain strength, and ensure an exacting rim bead seat diameter to provide the most precise tubeless interface. This wheelset is tubeless and disc brake only. When it comes to the biggest climbs of the Grand Tours or the undulating terrain out your front door, there's simply nothing faster.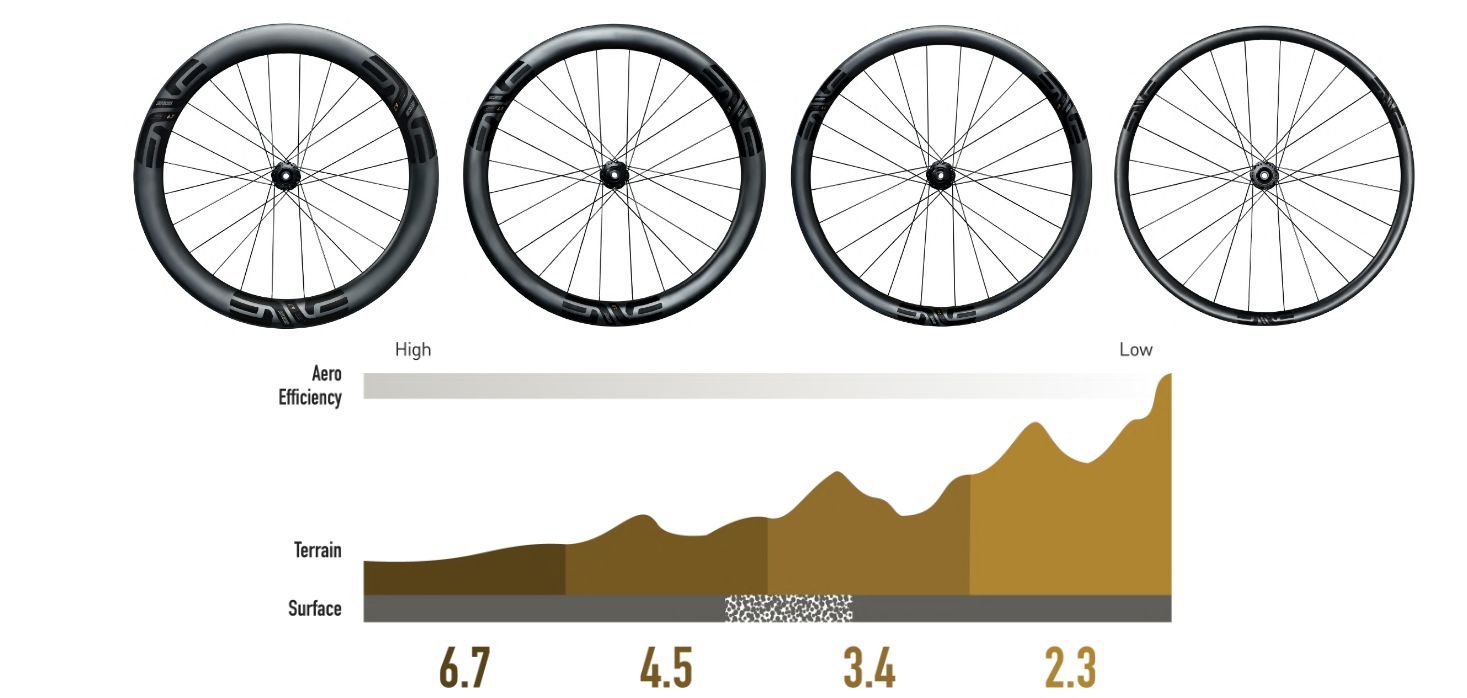 MATERIAL OPTIMIZED DESIGN
We design and build to the strengths of carbon fiber, and there's no better example of this than the SES 2.3. By using continuously running fibers throughout the rim, tapering laminates, and removing excess material, the SES 2.3 achieves an impressive feat in weight reduction and composites engineering. Additionally, layering fibers in specific orientations achieves zone-specific performance requirements like impact toughness, stiffness, and tire retention.
TUBELESS OPTIMIZED
Tubeless represents the pinnacle of road wheel and tire performance, and the hookless bead design plays a significant role. A hookless rim design allows for machined metal tooling to establish a precise and consistent bead seat diameter that meets the defined requirement by ETRTO. That precision fitment between the tubeless tire bead and the rim's bead seat ensures air and tire retention.
ENGINEERED FLAT PROTECTION - WIDE HOOKLESS BEAD
Most flat tires are caused by one of two things; Intrusion punctures (staples, thorns, glass, etc.) or pinch-flats (potholes, railroad tracks, rocks, etc.). While there is little we can do as a rim manufacturer to prevent punctures, the rim feature called Wide Hookless Bead greatly reduces the likelihood of pinch-flatting. Wide Hookless Bead technology works by providing a blunt surface upon which to bottom out the tire, dissipating energy across a larger surface area and preventing tire damage. This allows you to run the correct tire pressure without the worry of pinch-flatting.
ENVE PREMIUM ROAD HUB
What could be considered the nucleus of an SES wheel, the ENVE Premium Road Hub brings efficiency, longevity, and simplicity to every wheelset. From hub flange geometry to bearing longevity to Perfect Preload™, every design detail comes from more than a decade of pairing ENVE carbon rims with the leading hubs on the market. Key benefits of the ENVE Premium Road Hub are:
Hub Shell Geometry: The hub's flange diameters, spacing, and spoke hole lacing pattern assists in maximizing torsional stiffness, spoke tangency, and power transfer.
Lightweight: Cold-forged and machined 6061 alloy for durable lightweight performance. Weight: Front 126 grams, Rear 256 grams
Premium Grade Stainless Steel Bearings: The bearings selected are premium grade and custom-made for ENVE. Full stainless steel races promise that riders living near the coast, or riding in wet or humid environments, will not experience corroded bearings, races, or external surfaces.
Perfect Preload™: Our system ensures perfect bearing preload from the factory via a tuned wave washer installed on the axle. The result is a maintenance free design that promises longer bearing life, and improved rolling efficiency over the lifespan of the hub.
CERAMICSPEED BEARING UPGRADE OPTIONS
All ENVE hubs can be upgraded with Ceramicspeed Coated bearings for the ultimate in rolling speed and durability.
SPECIFICATIONS
DIAMETER: 700c
RIM DEPTH: 28/32mm
INNER RIM WIDTH: 21mm
HOLE COUNT: 24h/24h
HUB: ENVE Premium
SPOKES: Sapim CX-Ray
NIPPLES: Brass Internal
DRIVETRAIN: HG, XDR
AERO OPTIMISED TYRE WIDTH: 27mm
WEIGHT: 1197g 
"I've ridden the SES 2.3 through the Sonoran Desert, blistering fast Tucson group rides, Midwest crosswinds, and twisty Southern Californian descents... I still haven't found the limit of the SES 2.3."

- Griffin Easter, Professional Cyclist
 
---
WE'VE GOT YOUR BACK

ENVE Products are designed so that you can ride and race with confidence. As a member of the ENVE family, we've got your back. If something goes wrong, we are committed to do everything in our power to keep you rolling. Please click here for detailed information about ENVE's  Incidental Damage Policy and Factory Warranty