Review: Rapha Trail Fast + Light Pants - PinkBike
As the name implies, Rapha's Fast + Light pants are an airy, lightweight option that are ideal for longer rides with lots of pedaling. I can't say that I normally pay much attention to how much my pants weigh, but for the gram counters out there these were the lightest on test, at 262 grams for a size medium. That's thanks to the thinner fabric and smaller fasteners that are used – riders looking for thicker option for cooler rides will be well served by Rapha's Trail pant.

The Fast + Light Pants have a zippered hip pocket on the right side, and a larger zippered pocket on the thigh with a sleeve that works perfectly for holding a phone. The fit around the waist is adjusted by a piece of webbing with a camming buckle on each side, and the end of the webbing tucks neatly into the waist band so that it's not flapping around.


Rapha Trail Fast + Light Pants
• Fit adjustment: webbing with cam buckle
• Colors: navy, grey, gold
• Sizes: XS - XXL
• Inseam: 31"
• Fabric: 88% nylon / 12% elastane
• Weight: 262 grams
• Made in Vietnam
Two small snaps secure the waist band above the zippered fly. At the bottom of the pants and elastic cuff makes it easy to get them on and off. On the whole, the pants are very well made, with all the little details taken care of – it's clear that someone spent some time considering the design of these pants, rather than just pointing to a picture in a catalog and calling it good.
On the trail, these pants do work very well when the mercury climbs – they could come in handy on rides where extra protection from poison oak, brambles, or the sun is needed. Of course, there's a certain point on the thermometer when it's probably time to put the pants away and pull on some shorts, but these pants, along with the Yeti Ridgway pants, do stay cool longer than the heavier duty option in this test. Like the Ridgway pants, the thinner fabric doesn't ward off rain showers as well as something like the NF Pants, but it will withstand a light drizzle without immediately soaking through. They're not the first pants I'd grab for rainy winter rides, but for most other conditions they're extremely comfortable and breathable.
The lighter fabric has proven to be impressively tough – I've had a couple slide outs, and they've had a fair bit of mud and grit ground into them without any rips or tears. If they do happen to rip, a repair kit is supplied with the pants. As an added bonus, if the repairs are outside the scope of a rider's sewing skills, Rapha offers free repairs for the life of the product.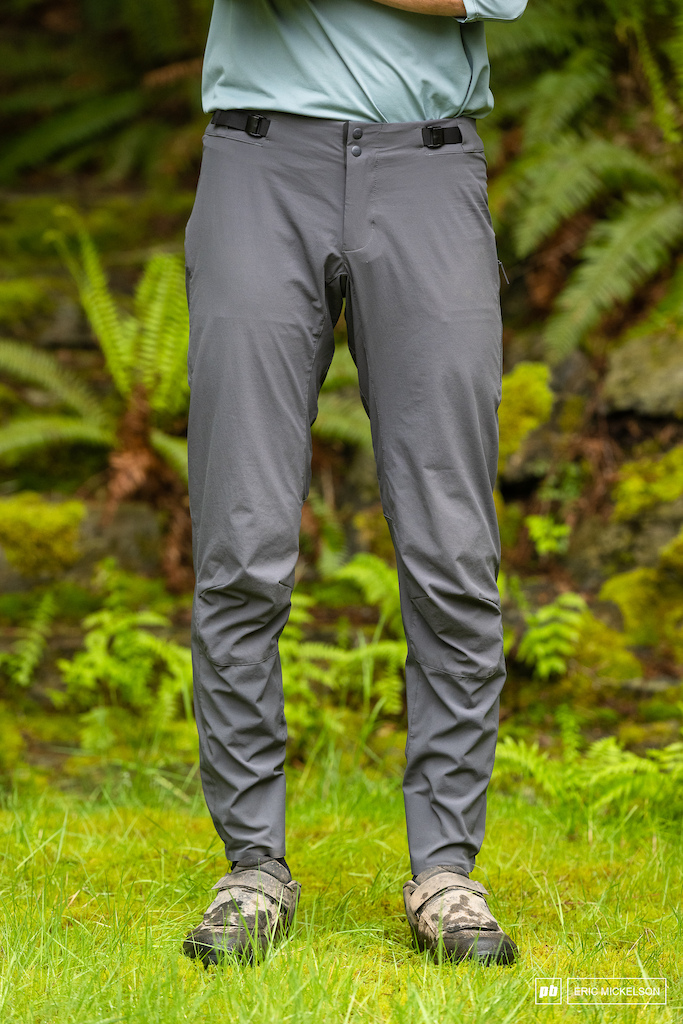 Pros
+
Very light + comfortable
+
Well thought out design
+
Includes repair kit + free repairs for life
Cons
-
Not as water-resistant as some other options
-
Might be
too
light for riders in cooler zones