Review: 2021 Specialized Stumpjumper EVO
Specialized's latest version of the Stumpjumper EVO has undergone a number of revisions for 2021, receiving more travel, more adjustability, and more internal storage than ever before.

It now has 150mm of rear wheel travel, a 160mm fork, and 29" wheels (the previous model had 140mm of travel paired with a 150mm fork, and was available with 27.5" or 29" wheels). There's no longer a dedicated 27.5" version, but there is an aftermarket mullet-link option for riders that want to take the mixed wheel size route.

There are five complete models in the lineup, with prices starting at $4,099 for the Expert Comp, which has a full Shimano SLX drivetrain and brakes, a Fox 36 Rhythm Fork, and a DPX2 Performance shock.
Stumpjumper EVO Details

• Wheel size: 29"
• Carbon frame
• Travel: 150mm (r) / 160mm fork
• 63 - 65.5-degree head angle
• 438mm or 443mm chainstays (size S4)
• Weight: 30 lb / 13.6 kg (S4 w/o pedals)
• Sizes: S1 - S6
• Price: $4,099 - $9,899 USD
• Frame only: $2,999 USD
I've been spending time on the extra-fancy S-Works version, which retails for $9,899 USD. That hefty price tag gets you SRAM's wireless, electronic AXS drivetrain and dropper post, Code RSC brakes, Roval Traverse SL carbon wheels, and a Fox 36 Factory fork with a DPX2 Factory shock.
Even though it's possible to make the Stumpjumper EVO nearly as slack a Demo, it still feels like a highly capable do-it-all machine out on the trail.

— Mike Kazimer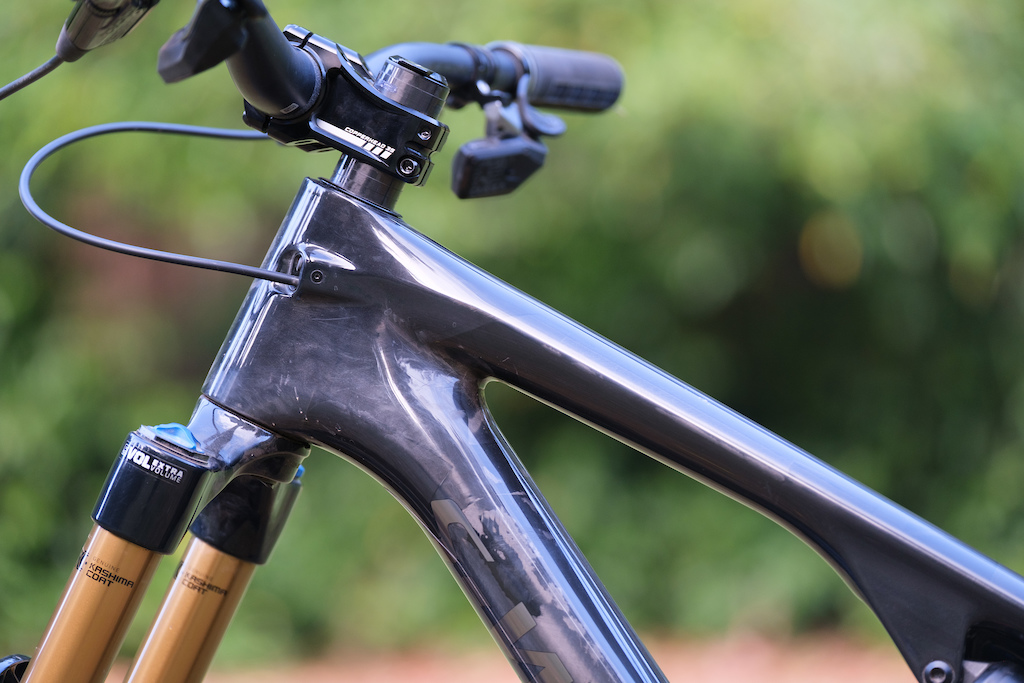 Construction and Features
The new Stumpjumper EVO's carbon frame has a similar silhouette to its predecessor, with the single-sided Sidearm front triangle design, but the new frame is lighter and can hold more snacks and tools in the downtube. The claimed weight for an S4 frame is 2750 grams (6.1 pounds), including the shock.
As far as the SWAT snack compartment goes, its storage capacity has been increased by 15%, and there's now an included 22oz bladder that perfectly matches the shape of the frame. A spring loaded multi-tool still sits in the steerer tube, along with a chain tool and a quick link.
Extra storage room means you can carry more gummy bears, or use the 22-oz bladder to bring your fluid of choice.
All of the little frame details are taken care of – there's hassle-free internal cable routing, plenty of chainslap and down tube protection, a threaded bottom bracket, and short 34.9mm seat tube lengths that make it possible to run longer travel dropper posts.
| | |
| --- | --- |
| | |
| There's plenty of chain slap protection, and a little flap to keep rocks from getting pinched between the swingarm and front triangle. | Geometry adjustments no longer take place at the shock mount - that's moved to the chainstays. |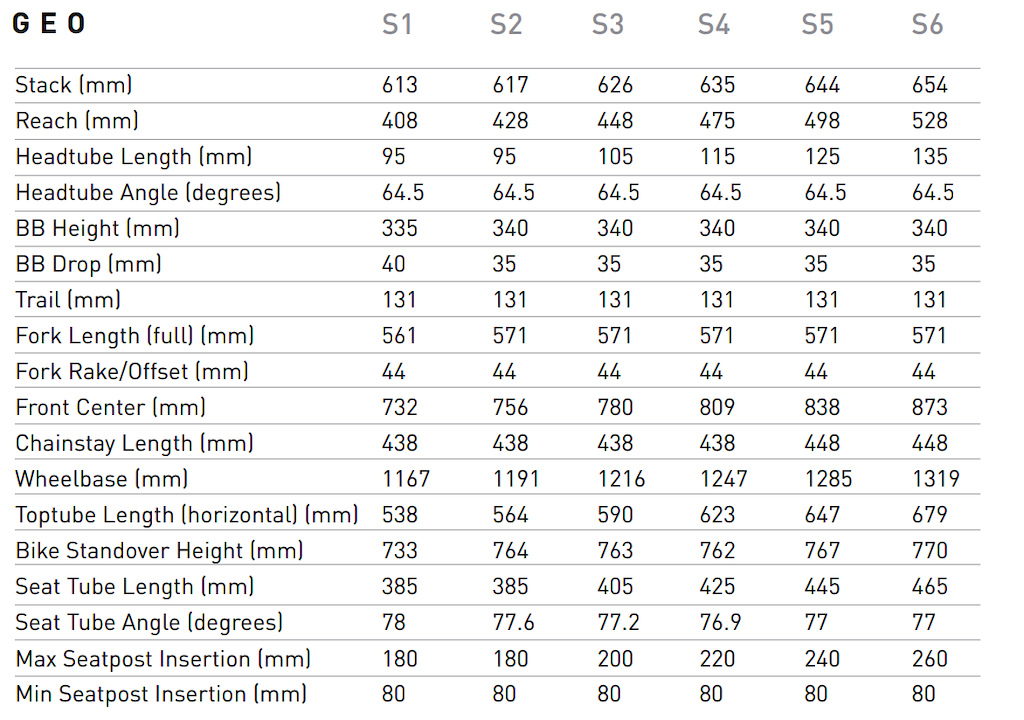 Geometry & Sizing
It felt like Specialized was testing the waters for the last couple years with the previous generation of the Stumpjumper EVO. It first debuted as an aluminum frame in 2018, and even when the carbon frame was eventually released there were only two sizes available. That's no longer the case – Specialized has gone all in with the newest version, offering a total of six sizes, from S1 – S6. That gives a reach range of 408 to 528mm in the stock setting.
The new version is incredibly adjustable, thanks to an included headset insert that allows for 1-degree of head angle adjustment in either direction. There's also a chip on the chainstays that allows for another .5-degree of head angle change that's accompanied by a 7mm bottom bracket adjustment. That means it's possible to set the bike up with an extra-slack 63-degree head angle, or to steepen the head angle to a more conservative 65.5-degrees, all in a matter of minutes.
Going over all six possible configurations would put even the most number-obsessed rider to sleep, so let's start by focusing on how the bike arrives, in the middle / high position. That gives the size S4 a 475mm reach, 64.5-degree head angle, 438mm chainstays, and 76.9-degree seat tube angle.
Overall, the reach numbers are modern without going too crazy, but riders looking for something even longer could easily size up without running into fit-related issues. The largest two sizes, S5 and S6, get longer chainstays to help accommodate the taller riders that will be riding them.
| | |
| --- | --- |
| | |
| Flip chips in the chainstays allow for .5-degree head angle change, 7mm bottom bracket height change, and 5mm chainstay length alteration. | The included headset cup makes it possible to slacken or steepen the head angle by 1-degree. |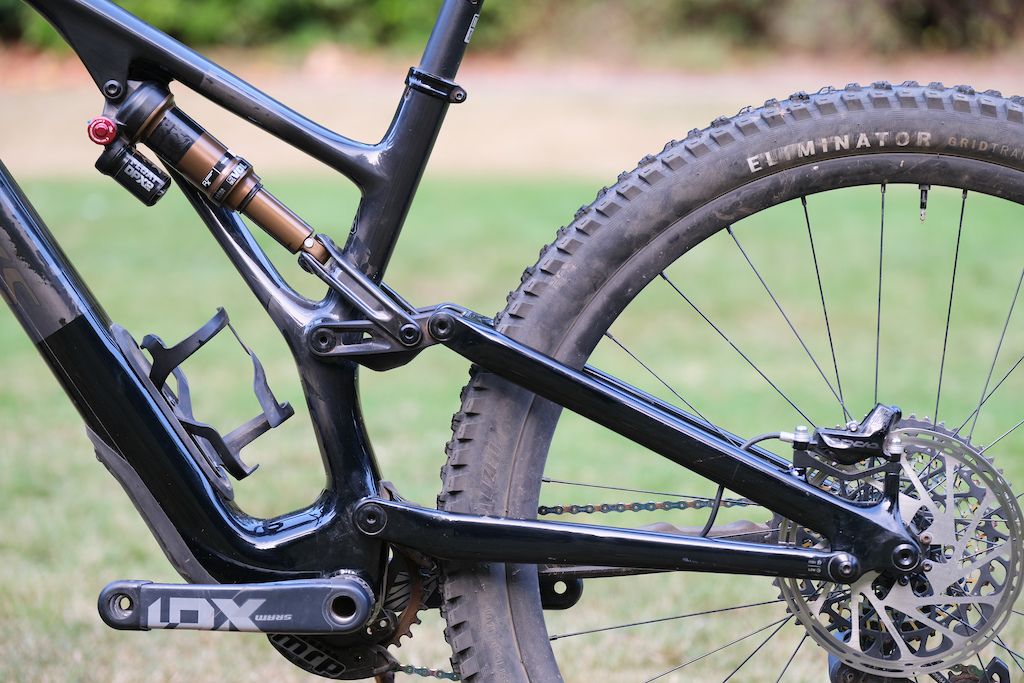 Suspension Design
There were rumors floating around the the new Stumpjumper would look like a mini-Enduro, complete with a 6-bar suspension layout, but those turned out to be unfounded. Specialized did alter the Stumpjumper EVO's kinematics to more closely match those of the Enduro, though, which gives the bike a more progressive leverage curve, and a more rearward axle path at the beginning of its travel.
That new leverage curve should help make running a coil shock possible without needing to bump up a spring rate or two, and it should leave room in an air shock for riders to add or subtract volume spacers to fine tune the suspension feel.

Specifications
| | |
| --- | --- |
| Price | $9899 |
| Travel | 150mm |
| Rear Shock | FOX Float DPX2 Factory |
| Fork | Fox Float 36 Factory, 160mm |
| Cassette | SRAM XX1 12-speed |
| Crankarms | SRAM X01 Eagle |
| Chainguide | MRP |
| Rear Derailleur | SRAM Eagle AXS |
| Chain | SRAM XX1 |
| Shifter Pods | SRAM Eagle AXS |
| Handlebar | Roval Traverse SL Carbon, 30mm rise |
| Stem | Deity Copperhead |
| Grips | Deity Knuckle Duster |
| Brakes | SRAM Code RSC |
| Wheelset | Roval Traverse SL Carbon |
| Tires | Butcher T9 / Eliminator T7 2.3" |
| Seat | Specialized Bridge, Ti rails |
| Seatpost | RockShox AXS Reverb, 30.9 |
RIDING THE STUMPJUMPER EVO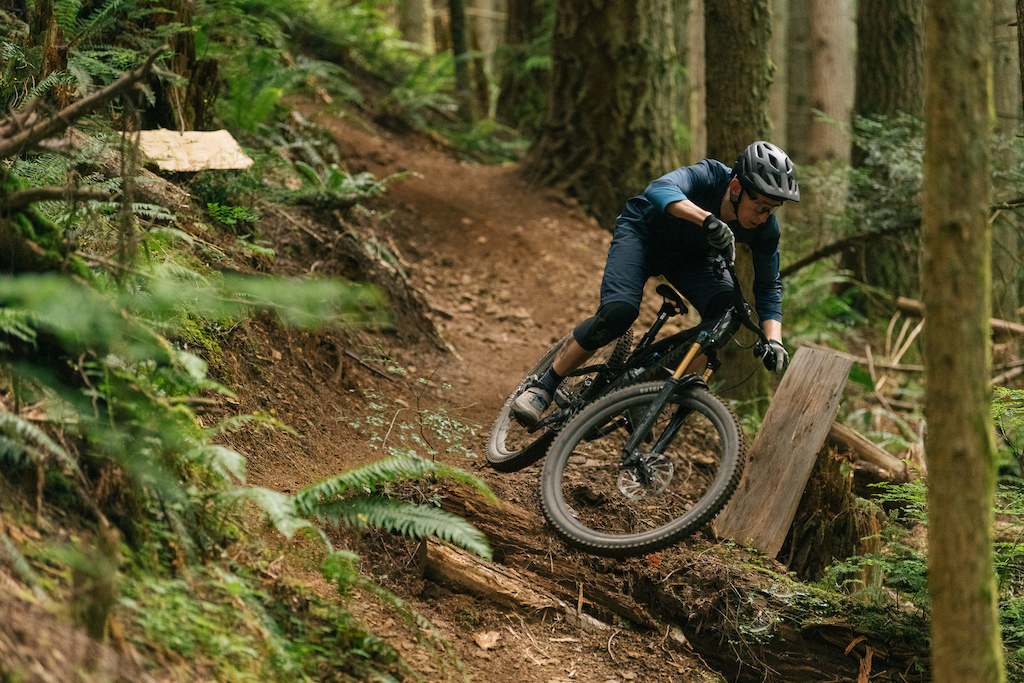 Test Bike Setup
Getting the Stumpjumper EVO set up was a straightforward affair. I ran 182 psi in the DPX2 shock, which put me just under 30% sag. I stuck with the .6 inch volume spacer which worked for the majority of the rides I went on, but I'd likely bump up to a .8 if I was planning on doing some bike park laps, or frequenting even rougher trails with bigger hits. Up front, I inflated the Fox 36 to 84 psi, with one volume spacer installed.
I trimmed the handlebars to my preferred 780mm width, and after a couple rides swapped the 50mm Deity stem out for a 40mm stem. I typically run a 40mm stem on all the bikes I ride / test in order to maintain a familiar cockpit setup.
I started out with the bike in the stock configuration, and by the end of the test period I'd tried 4 out of the 6 possible geometry settings – I'll go over my findings in the ride impressions section.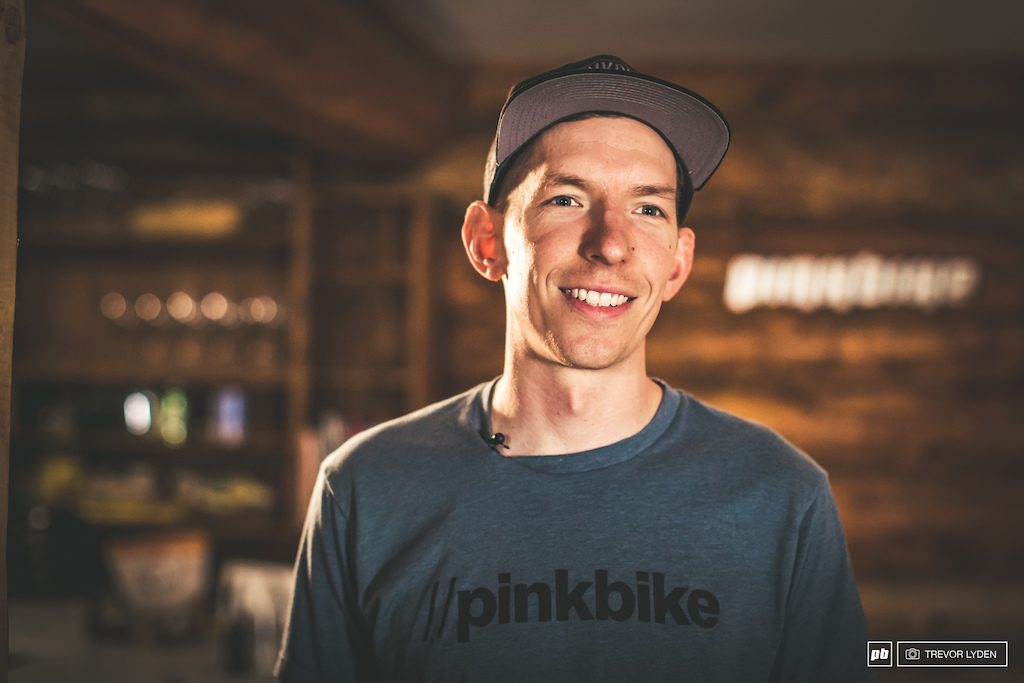 Mike Kazimer
Location:
Bellingham, WA, USA
Age:
38
Height:
5'11" / 180cm
Inseam:
33" / 84cm
Weight:
160 lbs / 72.6 kg
Industry affiliations / sponsors:
None
Instagram:
@mikekazimer
Testing took place in and around Bellingham, Washington. Conditions for the two month test period were on the drier side of things, with a few wet days in the mix.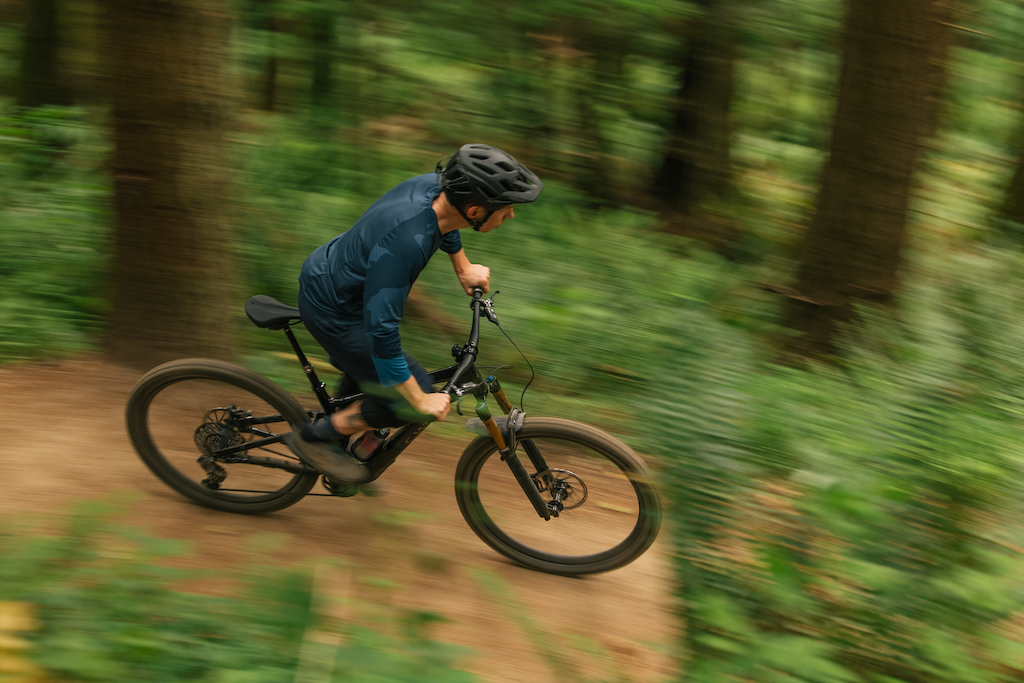 Climbing
The Stumpjumper EVO's geometry adjustments allow for a high level of customization. After some experimentation, my preferred all-round setting ended up being neural / low. That gave the bike a 64-degree head angle, 42mm of bottom bracket drop, and 443mm chainstays. Those numbers would have been radical just a few years ago, but we're seeing more and more bikes in this travel bracket released with similar head angles - the Transition Sentinel and Norco Sight are two examples that come to mind.
Now, 64-degrees isn't that far off from what you'll find on a DH bike, but thankfully the Stumpy EVO climbs much, much better than a downhill sled. That relatively light weight helps, and while the Horst Link suspension layout may not be quite as snappy as some of the dual-link designs out there, the latest version has a good amount of support for those out of the saddle sprints. Traction takes priority over an extra-firm, super efficient feeling ride, which helps keep that rear wheel from spinning out on those slippery, tricky root-filled climbs.
Pedal strikes are a little more common in that lower geometry setting, but I ended up sticking with it because of the cornering benefits. Plus, most of the climbs where I live are more rooty than rocky – there's a little more give when you hit a pedal on a stump compared to running into a solid chunk of granite.
I did spend some time with the bike in the slackest and lowest setting, but found that it felt too slack on mellower terrain for my liking. It gave the bike a lazy feel, and took away some of the easy handling that I enjoyed in the middle / low setting. Changing the head angle doesn't take that long, though, and I could imagine regularly switching it up for trips to steeper shuttle zones or a lift-served bike park.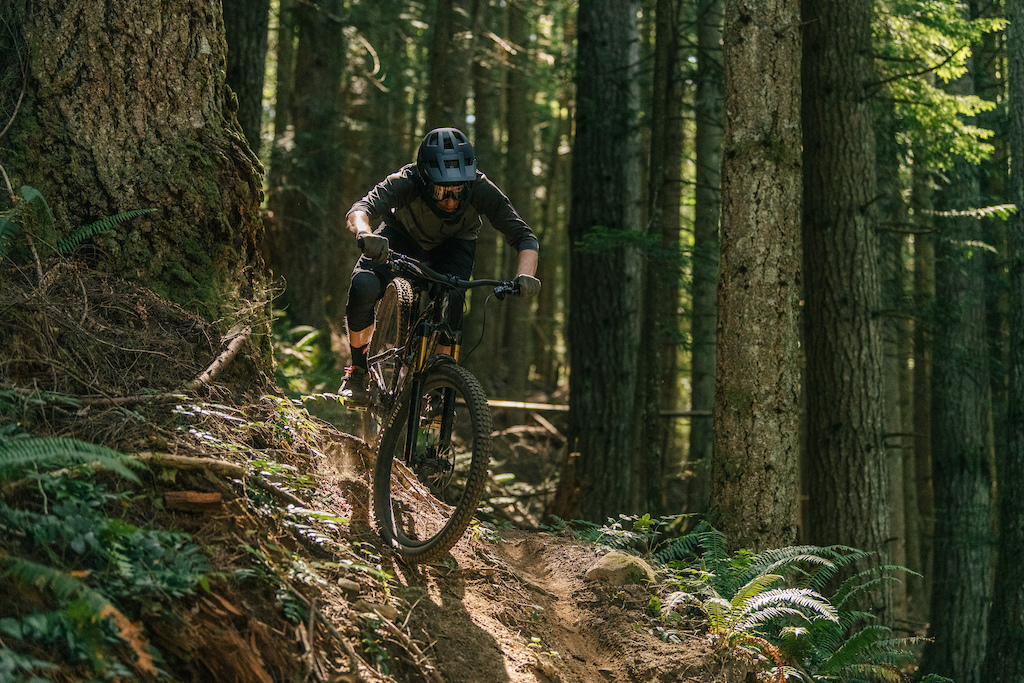 Descending
Even though it's possible to make the Stumpjumper EVO nearly as slack a Demo, it still feels like a highly capable, do-it-all machine out on the trail. The reach is modern without being crazy long, which makes it an easy bike to dip into corners and wriggle through tight sections. The extra travel and progression compared to the previous version are welcome changes, and help ensure that there's a little extra in reserve for bigger hits.
It still doesn't have the bottomless feel of the Enduro, but there's plenty of grip, and even in loose, marbley conditions the rear wheel managed to find traction. "Effortless" is the adjective that comes to mind when trying to sum up the Stumpy's handling in one word. No matter if I was on a steep, chunky descent, or on a smoother, jump filled line, I never felt like I was fighting the bike to get it to behave the way I wanted. I even chose it for my longest ride of the summer, a 55-mile, 11,000 vertical foot technical adventure, and it passed that test with flying colors.
As I mentioned, I spend most of the test period with the headset in the middle setting paired with the lower bottom bracket position. For me, that struck a nice balance between climbing, cornering, descending performance. The low and slack position is exactly that, and it works great for those extra steep, straight down the fall line trails. Even in that setting the bike isn't wildly long, which helps keep it maneuverable – there was never a sense that I'd somehow ended up on a runaway freight train.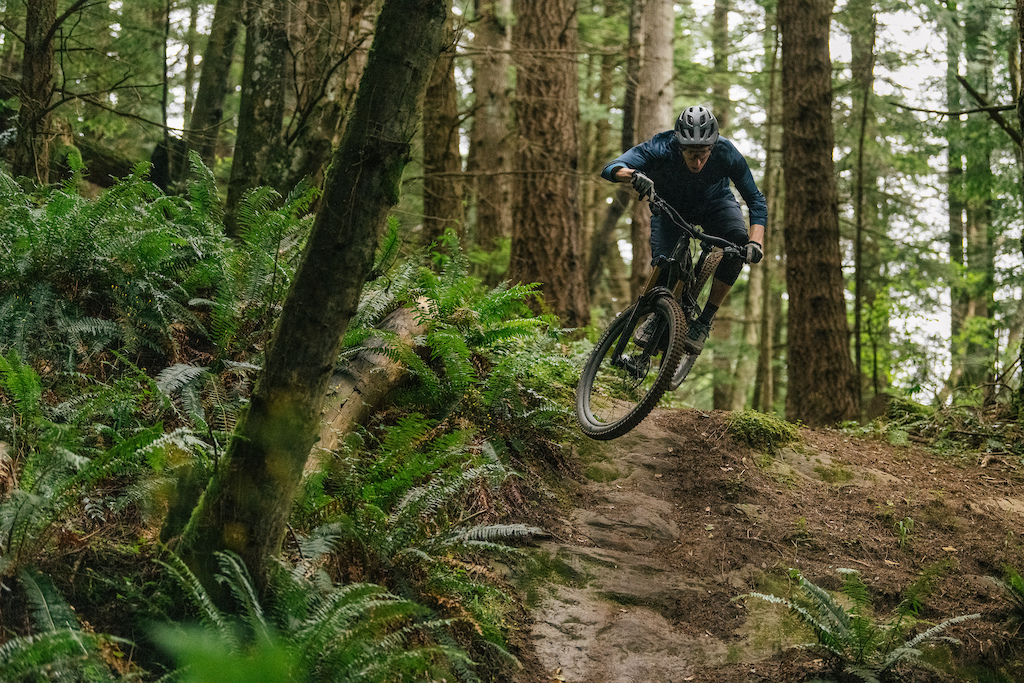 How does it compare?
When the last version of the Stumpjumper EVO came out, it didn't take long before riders started putting longer stroke shocks on it to increase the amount of rear travel. With the new version, that step's already taken care of, and realistically if riders want even more travel they should consider the Enduro instead.
Compared to the same size Enduro, the Stumpjumper EVO has a more energetic feel, especially at slower speeds. Part of that is likely to do with the difference in reach numbers, and the other part has to do with the suspension layout and shock spec.
If I was planning on doing some racing, hitting up the bike park, and regularly ended up on rough, semi-sketchy lines I'd go with the Enduro. The Stumpjumper EVO could still easily be raced, or brought to the bike park, but it has more of an all-mountain feel – it's a little more pedaling oriented, with a lighter, less ground-hugging feel. Overall, it's like choosing between a monster truck or a rally car – it all comes down to what type of riding you'll be doing the most.
Technical Report
Butcher / Eliminator Tires: Specialized has been on the hunt for the right rubber formula and casing construction for their tires for years, and it seems like they're heading in the right direction with the new T9 compound on the Butcher. It's sticky without turning to a chewed up eraser nubbin after a few days, and even though the hot patch says 2.3" it inflates to 2.4", which worked very well.
The Eliminator was easy to get along with in the dry, but I'd swap it out for something meatier and grippier if conditions were wet and muddy.
SRAM AXS Reverb post: Nobody actually needs a wireless electronic dropper post, but the AXS Reverb does work extremely well. My only complaint is that the longest version at the moment has 170mm of drop – I would have preferred to see a 200mm post on this bike.
SRAM AXS Eagle derailleur: The AXS derailleur shifted perfectly every single time, and I even managed to remember to occasionally charge the battery. I do have one request, one that applies to all of SRAM's derailleurs: I wish the clutch tension was higher. The amount of resistance to cage movement on the AXS derailleur is noticeably less than what you'll find with a Shimano derailleur, which makes it easier for the chain to slap up and down and make a racket.
2021 Fox 36:These days, classifying a bike by its fork seems like an easy way to figure out its intended purpose. The 36 used to be the burliest single crown option in Fox's lineup, but now that the 38 exists it's turned into an excellent option for trail / all-mountain bikes. It's a smooth operator, and there's something extremely satisfying about letting out any air that's gotten trapped in the lowers with the little bleed valves on each leg.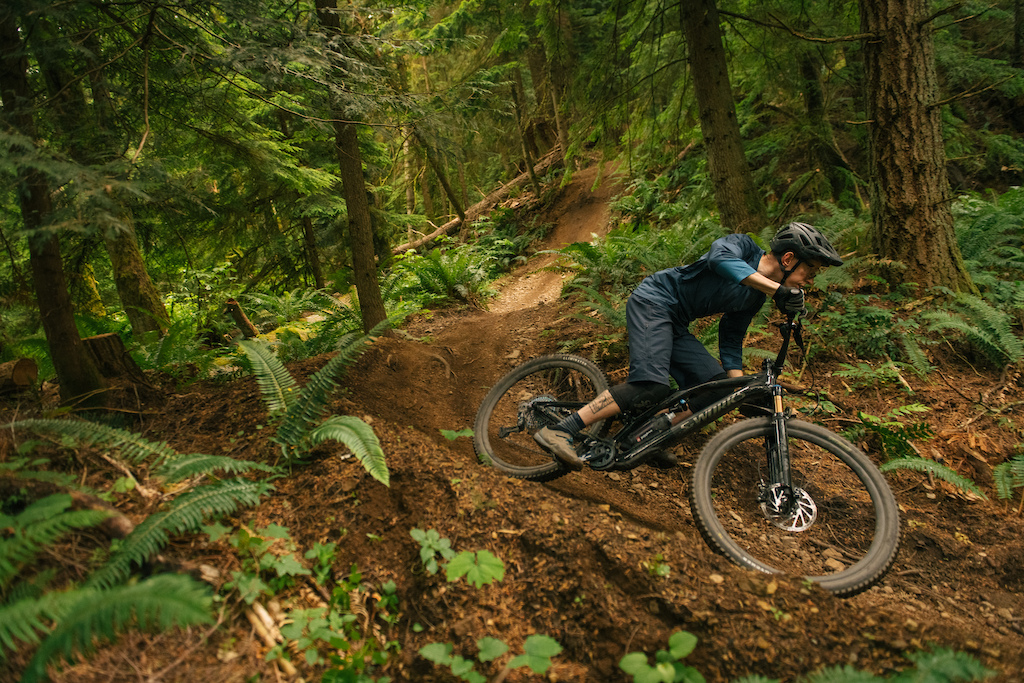 Pros




+

Wide range of effective adjustments that can quickly transform how the bike feels.


+

Light weight, allows for burly components to be installed without turning it into a tank


+

Well sorted frame - clever, useful features.

Cons




-

The price of this one is going to be a con for most people, but keep in mind that there are other more affordable models that are still well spec'd


-

It could use an even longer travel dropper, but there's not an AXS post longer than 170mm.
Pinkbike's Take


Article comes from PinkBike.
Check Stumpjumper EVO Comp and Stumpjumper EVO Expert.